Almond cinnamon pastry
Serves: 4
Ingredients:
Almond flake 1 cup
Monaco biscuit 150 gm
Cinnamon powder 2 gm
Fine sugar 200 gm
Fresh cream 200 ml
Unsalted butter 60 gm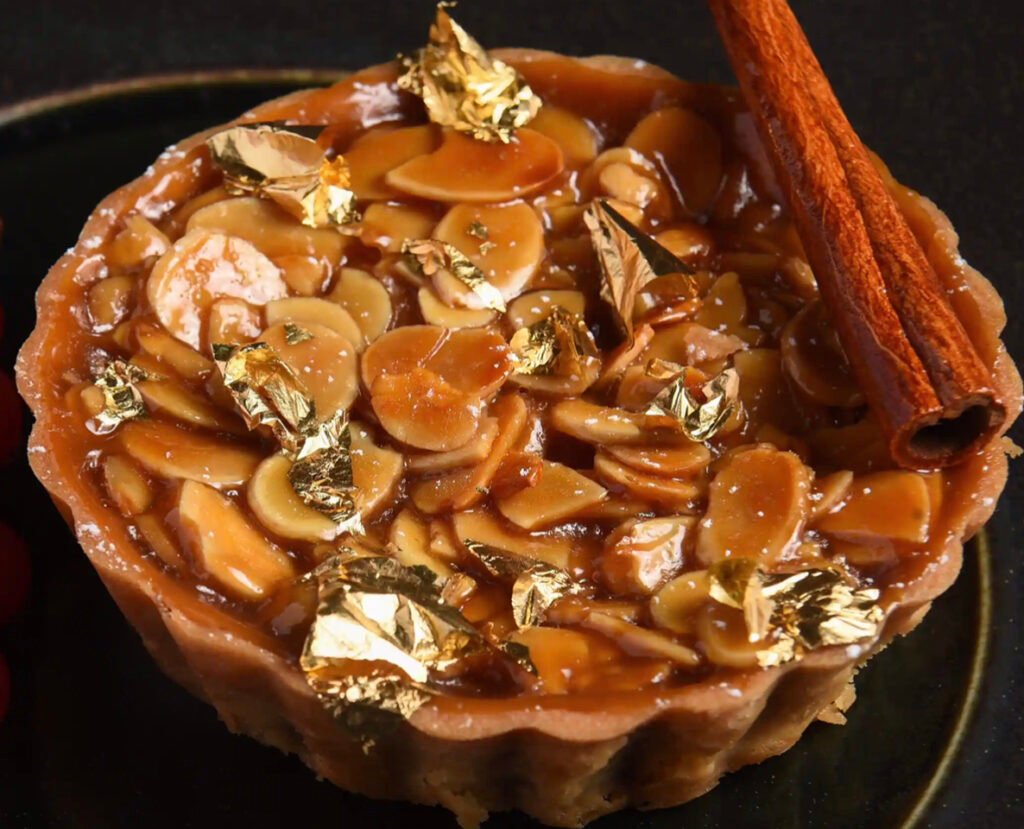 Roast the almond flake in preheated oven at 180 degree Celsius for 4 minutes or till golden in color.
For toffee sauce, caramelize sugar, add 40 gms of butter followed by cream and thoroughly mix it. For Monaco crumble, crush biscuits and mix 20 gm of butter with it. Spread this mixture in a 6-inch mould and bake at 160 degrees Celsius for 10 min. In a bowl mix, roasted almond slivers and toffee sauce and pour this mix over biscuit crumble in the mould. Bake the mix set in mould in a preheated oven at 180 degrees Celsius for 15 min. Serve once done and demould the pastry and serve with vanilla bean ice cream.
Almond and saffron kashmiri pastry
Serves: 4
Ingredients:
For dough
Refined flour 250 gms
Almond powder 50 gms
Desi ghee (clarified butter) 40 gms
Yeast 8 gms
Salt 5 gms
Fine sugar 50 gms
Full fat milk 150 ml
Saffron ½ gm
For topping of pastry
Almond flakes 15 g
Cranberries 5 g
Tutti frutti 5 g
Dry rose petals 5 g
Method:
Make the dough
Warm milk and soak saffron in it. Make dough by mixing all ingredients with this milk. Divide the dough in 2 equal parts and leave for 20 minutes to leaven. Take baking sheet and give each dough a round shape by hands. It should be ½ inch in Thickness. Top it with almond flakes, cranberries, tutti fruti and dry rose petals. Allow it to proof for 5 minutes and then bake it at 180 c for 2-3 minutes or till golden in color.
Grilled almond sugar free pastry
Serves: 4
Ingredients:
Khoya (pindi) – 500 g
Sugar free – 40 g
Almonds roasted and crushed – 1 cup
Grate the khoya and keep aside. Heat a pan and add khoya, now add 40 g of sugar free and cook on low heat for 3-4 mins. Remove from fire and mix in roasted and crushed almonds. Immediately transfer to individual serving dish. Sprinkle the remaining sugar free on top. Place the dish in a hot oven 200c with heat only from top and allow the sugar to caramelize. Remove and serve immediately.
Spiced almond banana jaggery pastry
Serves: 4
Ingredients:
Butter, unsalted-1/2 cup
Jaggery powder- 1/2 cup cinnamon
Ground- 1 ½ tsp
Nutmeg, ground- 1/4 tsp
Almonds, sliced- 1/2 cup
Sugar- 3/4 cup
Eggs, large- 3 no
Orange zest- 2 tsp
Banana, ripped and mashed- 1 1/4 cups
All-purpose flour- 3 cups
Baking powder- 1 1/2 tsp
Baking soda- 1 tsp
Salt- 1/2 tsp
Buttermilk – 2/3 cup
Melt 1/4 cup of the butter. Pour 2 tablespoons of the melted butter into an 8-cup pan; brush the butter over the pan sides and bottom. Mix together the jaggery, cinnamon, nutmeg, and almonds. Sprinkle bottom of pan with half the jaggery mixture; combine the remaining mixture with the remaining melted butter; set aside. In a large bowl, beat remaining 1/4 cup butter with granulated sugar until blended. Beat in eggs, 1 at a time, until blended. Beat in mashed banana. Mix all-purpose, baking powder, soda, and salt. Add to banana mixture along with the buttermilk; stir until well blended. Pour half the batter into prepared pan. Spoon remaining jaggery sugar mixture evenly over top; cover with remaining batter. Bake in a 180° oven until a long wood skewer inserted into the thickest part of the cake comes out clean, about 50 minutes. Cool the cake on a rack about 5 minutes, then invert cake onto a serving plate. Serve the pastry warm or cool.
Gluten free almond pastry
Serves: 4
Ingredients:
Almond Powder – 350 g
Egg (Separated) – 200 g
Honey – 100 g
Baking Soda – 10g
Vanilla Essence – 10 g
Salt – 5 g
Honey – 20 g
Sliced almonds – 50 g
Preheat oven to 180°C. Coat a 9-inch pan with Butter and flour. Line the bottom with parchment paper. Beat 4 egg yolks, 100g honey, vanilla, baking soda and salt in a large mixing bowl with an electric mixer on medium speed until well combined. Add the almond powder and beat on low until combined. Then, beat 4 egg whites in another large bowl with the electric mixer on medium speed until very foamy, but not stiff enough to hold peaks. Using a rubber spatula, gently fold the egg whites into the nut mixture until just combined. Scrape the batter into the prepared pan. Bake the cake until golden brown and a skewer inserted into the center comes out clean, about 20 minutes. Let cool in the pan for 10 minutes. Run a knife around the edge of the pan and gently remove the side ring. Let cool completely. Carefully transfer the cake to a serving platter. To serve, drizzle the top of the cake with honey and sprinkle with sliced almonds.